What Customization Is Possible?
A customized felt hat is completely made by your specifications. By using forgotten hat maker's trade secrets, we build some of the finest felt hats for you.These hats can be completely customized with color, brim size, crown shapes, trim, sweat band, woven label, logo and so on.
Hat styles
The hat styles can come in a fedora hat, as well as pork pie hat, trilby hat, boater hat, bowler hat, cowboy hat or top hat, etc.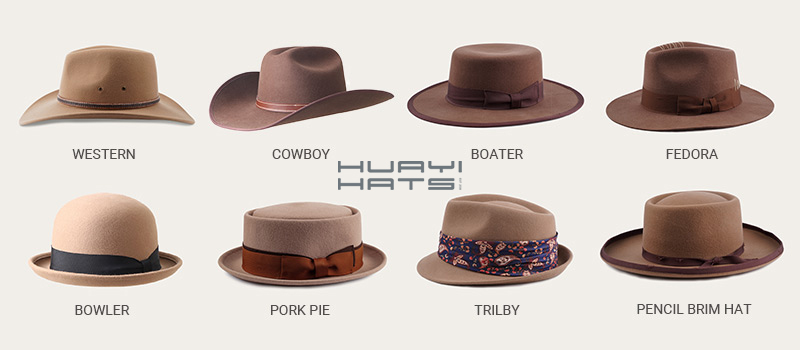 Colors
We are pleased to offer over 74 felt hat colors to choose from, such as black, pink, white, blue, tan and so on. You can also customize the hat according to the Pantone color card.

Materials
You can choose from different materials for your felt hats. 100% Australian wool are common for these hats. And you can get them in wool & cashmere (the same effect as beaver fur), or varifelt (the same effect as rabbit fur) as well.
Decorative band
Different look in different band. You can choose one color for your hat and an alternate shade for its decorative band, such as a leather band, rope band or a silk ribbon, etc.

PEOPLE ALSO ASKED
How much does a custom cowboy hat cost?
They are typically your cheaper hats. Again the price depends on the quantity of the felt hats, the color being used in the hat, the hat accessories and so on.
Can crushable felt hats be shaped??
Using a lint brush or the adhesive side of tape will remove dust and dirt on wool hats. If your wool hat gets out of shape, you can use steam from a tea kettle to reshape it. Hold the hat in the steam and allow it to soften. You can then reshape your hat to its original shape and then let it cool down before wearing. Always place a hat upside down on its crown if you do not have a hat rack for storage.
CUSTOM FELT HAT MAKER
About Huayi Hats Factory
Baoding Huayi Hats Co., Ltd. established in 2006, is a professional and leading enterprise engaged in design, production, sales and service of hatbody and completed hats. While focusing on felt hats, we are committed to leading the coordinated development of straw hats, sewing cloth hats, as well as knitted hats. We provide high quality hats to the world famous brands. Lots of them are highly recommended by customers from North-America, Europe and Japan market.
Certification
At present, Huayi hats has passed BSCI, SGS, ITS, ISO, RWS etc., to ensure that its products and services meet the market standards.