Straw beach hat
protects you from the sun like a lifeguard hat and allows you to look good. That's why girls love to wear a big pair of sunglasses with these hats. And they are custom made to ensure the best fit.
Related Search:
fedora manufacturer
Do you love being fashionable and enjoy maintaining pace with the ever-changing design-wear industry? Then you must divert your attention to this wonderful collection of straw beach hat at Huayihats.com. straw beach hat offered at the site are crafted very well according to your taste and style and come with an elegant finish.
Straw beach hat is very useful to protect your head during the summer from heat or enjoy during any seasons flaunting an extravagant style. These straw beach hat are available for both men and women, so making a style statement and being on par with the latest trends is not limited to any one gender, any longer. This straw beach hat is made from the finest quality materials and are eco-friendly as well. Product variants are also available for showing off your love for nature and expressing elegance in the most natural way.
Straw beach hat at Huayihats.com are available in a wide variety of options, whether you go for natural ones or a distinct fabric line that goes perfectly with your distressed preference. straw beach hat also come in different shapes and sizes for you to choose from. Our straw beach hats are ISO 14001, ISO 9001 and OHSAS 18001 certified ensuring optimum quality.
Visit Huayihats.com to browse through a wide variety of straw beach hat options and settle for the designer products that suit your preference and finances at the same time. You can also enjoy superior deals on the products from us. OEM orders are also accepted on requests.
Your Customized Straw Hats - Make Your Unique Straw Hat
Each straw is custom shaped by hand to your specifications before it ships. Our quality custom straw hats are made with care from start to finish so that you can enjoy a durable and long-lasting everyday hat.
What customization is possible?
In the customization of your ideal straw hat, you can choose the colors of the hat itself, materials, the type of marking or ribbon, the logo, etc.
Hat styles
Everything from the classic and timeless styling of the straw fedora hat to the straw panama hat along with western styled straw cowboy hats.
Colors
Find the perfect color! Our straw hats come in a variety of colors. They are fade resistant and can compliment most spring and summer outfits.
Materials
You can choose from different materials for your straw hats. Raffia straw, palm leaf, panama straw, paper straw are common for these hats.
Decorative band
One hat, more options! You can get the versatility of having multiple hats, while needing to bring just one superior quality straw hat along!
Straw Hat Manufacturer
About Huayi Hats Factory
Baoding Huayi Hats Co., Ltd. established in 2006, is a professional and leading enterprise engaged in design, production, sales and service of hatbody and completed hats. While focusing on felt hats, we are committed to leading the coordinated development of straw hats, sewing cloth hats, as well as knitted hats. We provide high quality hats to the world famous brands as Stetson, Gigi Pip, Brixton, etc. Lots of them are highly recommended by customers from North-America, Europe and Japan market.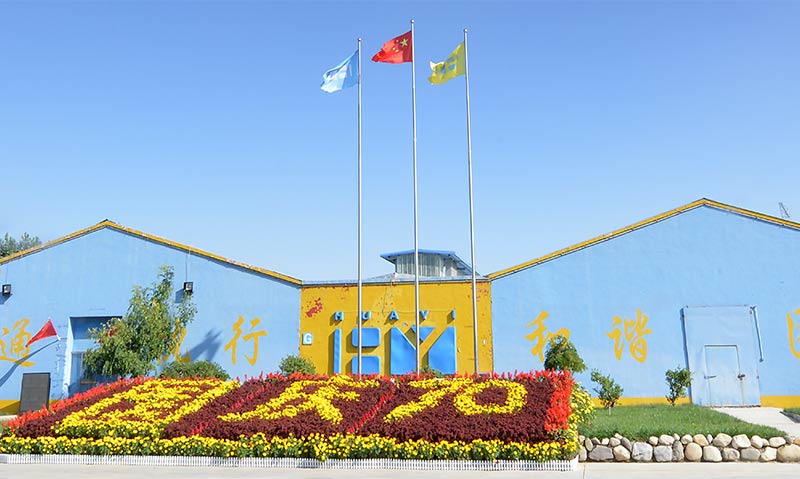 Attending exhibition shows
We attend the Canton Fair two seasons every year, Magic Show in USA, and different fairs in Japan, France, Australia, etc. with our latest styles. Get more information to our booth!

Certification
At present, Huayi hats has passed BSCI, SGS, ITS, ISO, RWS etc., to ensure that its products and services meet the market standards.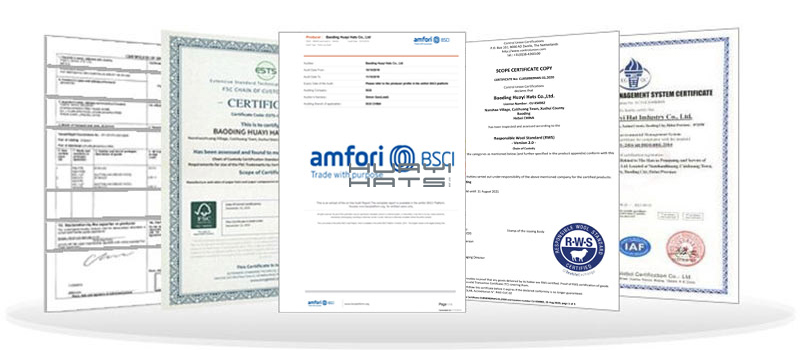 Get Wholesale Price