The
newsboy cap
, newsie cap or baker boy hat (British) is made of eight panels with a button on top. It's known from its wide popularity among newsboys or "newsies". As with most historic fashion trends, these stylish caps have made a comeback in recent years. Newsboy caps are most often made from wool and leather for the cold weather and lighter materials such as linen and cotton for the summer weather. We are proud to offer our own
mens newsboy caps
and
womens newsboy caps
for wholesale.
Related Search:
wholesale mens newsboy cap
wholesale womens newsboy cap
wholesale ivy cap
Wholesale Newsboy Caps
Looking to buy high quality cowboy hats in bulk to save money? The design and wholesale distribution of the Huayi Hats has been our focus for over so many years.
Browse through a wide selection of newsboy cap on Huayihats.com that are unique and adaptable to many different occasions and seasons. These newsboy caps provide flexibility as they can be used in both outdoor and indoor settings.
The newsboy cap on the website come in many different options, ensuring that every season and every individual preference is catered to. Find a plethora of newsboy cap in a variety of shapes, sizes, colors and patterns. An overwhelming array of newsboy cap at extremely affordable prices ensures that there is something to appeal to everyone. The products come from Huayi Hats, guaranteeing high-quality and extensive warranty periods.
A wide variety of wholesale newsboy cap options are available to you, such as 100% cotton, polyester/cotton, and 100% wool. You can also choose from adults, children newsboy cap, as well as from unisex, male, and female newsboy cap, and whether newsboy cap is character, striped, or image.
If you want to get the wholesale price and the details for your favorite hats or just request our free hat catalog. Please contact us.
What Customization Is Possible?
Our newsboy cap's casual look can be customized according to your own style. All our mens newsboy cap are manufactured according to the highest standards in this line. We never stopped committing to providing you the great product, time-critical delivery and best service. The customization of newsboy cap is available in hat styles, color, material, logo, pattern, size and so on.
Hat styles
The hat styles can come in a mens newsboy cap, as well as womens newsboy cap, 8 panel newsboy cap, etc.
Colors
Available in a medley of classic colors - including black, brown, grey, navy, and so on. You can also customize the hat according to the Pantone color card.
Materials
We carefully choose materials for our newsboy caps and hats. Headwear is to offer above average comfort. That is why we willingly use materials such as 100% wool, wool blend, cotton, linen, Harris Tweed or genuine leather.
Newsboy Caps Manufacturer
About Huayi Hats Factory
Baoding Huayi Hats Co., Ltd. established in 2006, is a professional and leading enterprise engaged in design, production, sales and service of hatbody and completed hats. While focusing on felt hats, we are committed to leading the coordinated development of straw hats, sewing cloth hats, as well as knitted hats. We provide high quality hats to the world famous brands. Lots of them are highly recommended by customers from North-America, Europe and Japan market.
Attending exhibition shows
We attend the Canton Fair two seasons every year, Magic Show in USA, and different fairs in Japan, France, Australia, etc. with our latest styles. Get more information to our booth!

Certification
At present, Huayi hats has passed BSCI, SGS, ITS, ISO, RWS etc., to ensure that its products and services meet the market standards.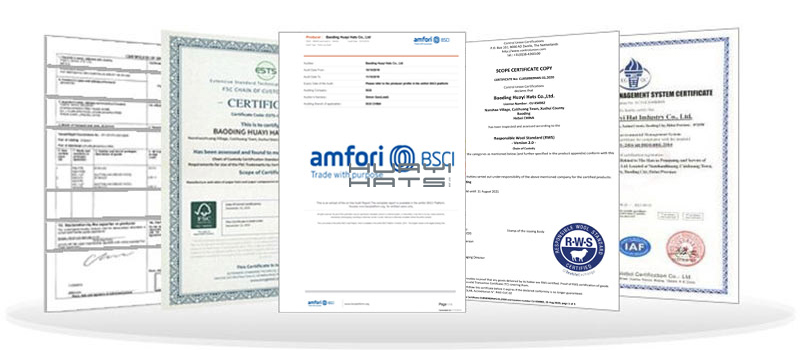 People Also Ask
What is a newsboy cap called?
Answer: Sometimes called newsy caps, newsie caps, or paperboy caps, newsboy caps were popular among working class boys and men in the late 1800s and early 1900s. ... Newsboy caps are also called bakerboy caps, although they have never been officially associated with baking. If you want to read more, please click what is a newsboy cap.
What is the purpose of a newsboy cap?
Answer: While they were worn by boys and men of all social classes, they were worn by the 'upper' classes primarily for leisure activities, and the style became associated with well-to-do country sportsmen, drivers and wealthy golfers.
What is the difference between a flat cap and a newsboy cap?
Answer: The most noticeable distinction between the two styles is that newsboy caps are rounder, puffier, and look a little baggy. Unlike a flat cap, which has no bagginess, a newsboy cap is sewn together from the top of the hat creating eight panels — as such, a newsboy cap is often called an eight-panel or gatsby cap. If you want to read more, please click newsboy cap vs flat cap.
Get Wholesale Price