Black Fedora Hat With Red Feather For Men
This black fedora hat with feather is made with a soft 100% Australian wool that is lightweight, breathable and comfortable. It's perfect for any season of the year and suitable for men. Classic style design with removable red hat feather make you so fashion, elegant and charming. The feather jewelry is handmade from birds naturally shed feathers, It's very beautiful. Because every feather is different, the shape of each feather jewelry will be a little different. Perfect for lounging at the beach, travel, clubbing, or simply casual everyday wear.
100% Australian Wool
Fedora Hat
Medium Wide Brim
Mens Fedora Hat With Feather
Removable Red Feather
Classic Center Dent Shaped Black Fedora
SKU: 1012010104420001
We can design it on the base of this fedora hat with feather for you

for free

!
We can license our famous brand 【RUEDIGER】 to your hat

for free

!
You will get the same personalized attention that you deserve no matter you order 1 piece or 10000 pieces

freely

! Contact us to get a coupon!
GET A QUOTE
Your Customized Fedoras - Make Your Unique Fedora Hat with Feather
A customized fedora hat is completely made by your specifications. By using forgotten hat maker's trade secrets, we build some of the finest mens fedora hats for you.
What customization is possible?
These hats can be completely customized with color, brim size, crown shapes, trim, sweat band, woven label, logo and so on.
Hat styles
The hat styles can come in a boater fedora, as well as pork pie fedora hat, trilby fedoras, top hat, bowler hat or cowboy hat or top hat, etc.
Colors
We are pleased to offer over 74 felt hat colors to choose from, such as black, green, white, blue, grey, brown, camel style and so on. You can also customize the hat according to the Pantone color card.
Materials
You can choose from different materials for your fedoras. 100% Australian wool are common for these hats. And you can get fedoras in wool & cashmere (the same effect as beaver fur), or varifelt (the same effect as rabbit fur) as well.
Decorative band
Different look in different band. You can choose one color for your hat and an alternate shade for its decorative band, such as a leather band, rope band or a silk ribbon, etc.
Fedora Hat Manufacturer
About Huayi Hats Factory
Baoding Huayi Hats Co., Ltd. established in 2006, is a professional and leading enterprise engaged in design, production, sales and service of hatbody and completed hats. While focusing on felt hats, we are committed to leading the coordinated development of straw hats, sewing cloth hats, as well as knitted hats. We provide high quality hats to the world famous brands. Lots of them are highly recommended by customers from North-America, Europe and Japan market.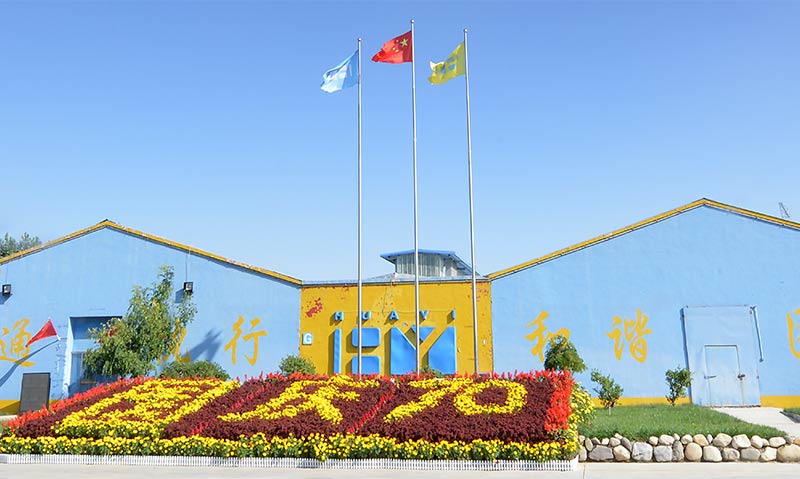 Attending exhibition shows
We attend the Canton Fair two seasons every year, Magic Show in USA, and different fairs in Japan, France, Australia, etc. with our latest styles. Get more information to our booth!

Certification
At present, Huayi hats has passed BSCI, SGS, ITS, ISO, RWS etc., to ensure that its products and services meet the market standards.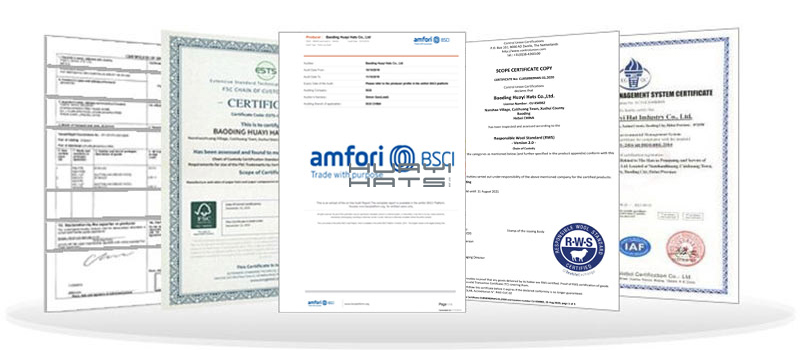 Specification of this Fedora Hat with Red Feather
| Attribute | Value |
| --- | --- |
| Hat type | Fedora hat |
| Material | 100% Australian wool |
| Color | Black |
| Size | Custom your size, adult or baby |
| Logo | Custom your logo |
| Pinch | Teardrop |
| Brim | Medium Wide brim |
| Ribbon | With leather band |
| Gender | Mens |
| Age group | Adult |
| Feature | Mens hat with feather |
| Manufacturer | Huayi Hats |
| SKU | 20101 |
Wholesale Price
Looking to buy high quality fedora hats in bulk to save money? We offer wholesale fedora hats for those really looking to party. We don't need to say that purchasing this fedora hat from our factory saves your wallet than purchasing them elsewhere, the customer reviews already have it.
If you want to know the wholesale price of this fedora hat with feather for reference. Please contact us for exact quotation.
And whether you order 1 piece or 10000 pieces, you will get the same personalized attention that you deserve!
People Also Ask
Can the band be removed?
Answer: No the band cannot be removed.
What goes with a fedora hat?
Answer: A fedora looks best when paired with a jacket.
What is a Musketeer hat called?
Answer: A cavalier hat is a variety of wide-brimmed hat popular in the seventeenth century. These hats were often made from felt, and usually trimmed with an ostrich plume. They were often cocked up or had one side of the brim pinned to the side of the crown of the hat (similar to the slouch hat) which was then decorated with feathers. Learn more about a Musketeer in wikipedia.
What's the difference between a fedora and a trilby hat?
trilby vs fedora hat

| Difference | Fabric | Brim | Crown | Wear | Usage |
| --- | --- | --- | --- | --- | --- |
| Fedora | traditionally, higher-end, durable material: wool or felt | a wide brim size varying from 2 to 3 inches | teardrop crowns, diamond crowns and many more | a true gentlemen style;be worn slightly over the eyes | upscale occasions;keep the elements off the wearer |
| Trilby | less expensive material: often tweed or straw | narrower brim often curled up on the edges | trilby has a pointier crown than the Fedora | more casual;be worn on the back of the head | providing no practical purpose other than being a trendy headpiece |
If you want to know more the difference between a fedora and a trilby hat, please browse our blog.
Top Reviews of this Fedora Hat with Feather
Shreve.Cieanna from United States
verified purchase
Ordered this for my husband but was a bit worried it may not fit his head. However it got perfect and he loves it. It's not to thick and heavy which is good because we live in FL where its always warm. You can dress it up or wear it casually. I am going to custom another in a different color. Totally worth it. So well priced for the quality.
Ruby from United States
verified purchase
Way better than expected and have been given multiple compliments on this hat.
Andrew Jangi from United States
verified purchase
We love the feel of the hat and the feather.
you may also like
---
Get Wholesale Price