Mens Wide Brim Distressed Fedora Hat With Grosgrain Ribbon
The distressed fedora hat is made with 100% wool with a high-quality grosgrain ribbon finish and offers maximum comfort with its light lining. The coating of this vintage hat is water-repellent and thus it provides protection against any unexpected rain. Wide brim provides additional protection against the sun. The washed-out coating gives the hat an oiled, vintage leather look, lending it inimitable style all year round. Hard brim requires that the hat cannot be folded or packed in a smaller box.
100% Australian Wool Felt
Pork Pie Hat
Hard Wide Brim
Distressed Fedora
Water Repellent
Adjustable Sweatband
SKU: 1042044400160020
We can design it on the base of this distressed fedora hat for you

for free

!
We can license our famous brand 【RUEDIGER】 to your hat

for free

!
You will get the same personalized attention that you deserve no matter you order 1 piece or 10000 pieces

freely

! Contact us to get a coupon!
GET A QUOTE
Your Customized Fedoras - Make Your Unique Distressed Fedora Hat
A customized fedora hat is completely made by your specifications. By using forgotten hat maker's trade secrets, we build some of the finest mens fedora hats for you.
What customization is possible?
These hats can be completely customized with color, brim size, crown shapes, trim, sweat band, woven label, logo and so on.
Hat styles
The hat styles can come in a boater fedora, as well as pork pie fedora hat, trilby fedoras, top hat, bowler hat, cowboy hat or top hat, etc.
Colors
We are pleased to offer over 74 felt hat colors to choose from, such as blue, brown grey, and so on. You can also customize the hat according to the Pantone color card.
Materials
You can choose from different materials for your fedoras. 100% Australian wool are common for these hats. And you can get fedoras in wool & cashmere (the same effect as beaver fur), or varifelt (the same effect as rabbit fur) as well.
Decorative band
Different look in different band. You can choose one color for your hat and an alternate shade for its decorative band, such as a leather band, rope band or a silk ribbon, etc.
Fedora Hat Manufacturer
About Huayi Hats Factory
Baoding Huayi Hats Co., Ltd. established in 2006, is a professional and leading enterprise engaged in design, production, sales and service of hatbody and completed hats. While focusing on felt hats, we are committed to leading the coordinated development of straw hats, sewing cloth hats, as well as knitted hats. We provide high quality hats to the world famous brands. Lots of them are highly recommended by customers from North-America, Europe and Japan market.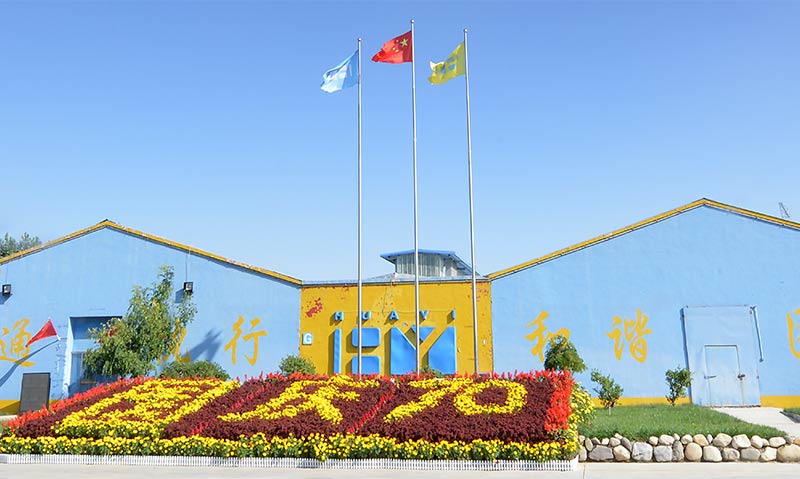 Attending exhibition shows
We attend the Canton Fair two seasons every year, Magic Show in USA, and different fairs in Japan, France, Australia, etc. with our latest styles. Get more information to our booth!

Certification
At present, Huayi hats has passed BSCI, SGS, ITS, ISO, RWS etc., to ensure that its products and services meet the market standards.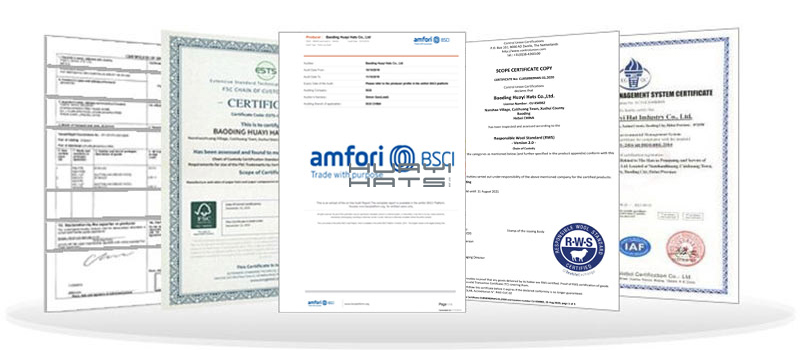 Specification of this Distressed Fedora Hat
| Attribute | Value |
| --- | --- |
| Hat type | Fedora hat |
| Material | 100% Australian wool |
| Color | Tan |
| Size | Custom your size |
| Logo | Custom your logo |
| Pinch | Circle dent |
| Brim | Hard wide brim |
| Ribbon | With a grosgrain ribbon |
| Gender | Mens |
| Age group | Adult |
| Feature | Mens distressed fedora |
| Manufacturer | Huayi Hats |
| SKU | 1042044400160020 |
Wholesale Price
Looking to buy high quality fedora hats in bulk to save money? We offer wholesale fedora hats for those really looking to party. We don't need to say that purchasing this fedora hat from our factory saves your wallet than purchasing them elsewhere, the customer reviews already have it.
If you want to know the wholesale price of this men's fedora hat for reference. Please contact us for exact quotation.
And whether you order 1 piece or 10000 pieces, you will get the same personalized attention that you deserve!
People Also Ask
Can you still wear a fedora?
Answer: Despite MJ's style influence, the fedora today remains a hat that is still associated with dapper, rakish gentlemen who like to dress well. If you own and wear one true felt hat, this should be the one you choose.
Who wears a fedora hat?
Answer: After Edward, Prince of Wales started wearing them in 1924, it became popular among men for its stylishness and its ability to protect the wearer's head from the wind and weather. Since the early part of the 20th century, many Haredi and other Orthodox Jews have made black fedoras normal to their daily wear.
How do you distress a fedora hat?
Answer: To further age the hat's appearance, twist the hat and hold it together with rubber bands. Let it stay that way overnight, which will result in creases and folds. To fray the felt, gently use a cheese grater across the fedora hat's crown and brim.
Top Reviews of this Distressed Fedora Hat
Taylor from United States
verified purchase
The hard wide hat sample was packed perfectly in a box, it suits me very well,looks and feels very special.
Peri L Crim from United States
verified purchase
The hat itself, high quality and soundly made. So I won't give it bad review. Again, if you think you can trust it arriving in good shape, this is a excellent hat.
Cstan from United States
verified purchase
I just received my distressed hat and I'm so impressed by the quality and craftsmanship. The level of communication and customer service was legendary. I will definitely buy more hats from his shop in the future and I highly recommend him for a hat if you want something unique and stylish...thank you once again for my hats and I wish you great success in your business
you may also like
---
Get Wholesale Price