Mens fedora hat
makes you look more elegant and casual. The man who wears fedora hats can be seen as a mover, a shaker, a forward thinker, an innovator. Not someone new to the game but someone who knows how to play it. A strategically styled mens hat is one of the easiest ways to add personality to your look, a great gift choice.
Related Search:
wide brim fedora
black fedora
straw hats for men
best fedora hats 2021
Mens Fedora Hat For Wholesale
Looking to buy high quality mens fedora hats in bulk to save money? The design and wholesale distribution of the Huayi Hats has been our focus for over so many years.
So many mens fedora hats wholesale products are offered for sale on huayihats.com. A wide variety of mens fedora hats wholesale options are available to you, such as panama fedora, homburg fedora and pork pie fedora. You can also choose from adults, children, and babies fedora hats, as well as from unisex, womens, and mens fedora hats, and whether fedora hats is plush, image, or character.
Our wholesale minimums vary per style. And small quantity per style is our idea of wholesale as general. But there is no minimums if you choose our hats in stock.
If you want to get the wholesale price and the details for your favorite hats or just request our free hat catalog. Please contact us.
Your Customized Mens Fedora Hat
A customized mens fedora hat is completely made by your specifications. By using forgotten hat maker's trade secrets, we build some of the finest fedora hats for you.
What customization is possible?
These hats can be completely customized with color, brim size, crown shapes, trim, sweat band, woven label, logo and so on.
Hat styles
The hat styles can come in a boater fedora, as well as pork pie fedora hat, trilby fedoras, top hat, bowler hat, cowboy hat or top hat, etc.
Colors
We are pleased to offer over 74 felt hat colors to choose from, such as black, pink, white, blue, tan and so on. You can also customize the hat according to the Pantone color card.
Materials
You can choose from different materials for your fedoras. 100% Australian wool are common for these hats. And you can get fedoras in wool & cashmere (the same effect as beaver fur), or varifelt (the same effect as rabbit fur) as well.
Decorative band
Different look in different band. You can choose one color for your hat and an alternate shade for its decorative band, such as a leather band, rope band or a silk ribbon, etc.
Mens Fedora Hat Manufacturer
About Huayi Hats Factory
Baoding Huayi Hats Co., Ltd. established in 2006, is a professional and leading custom fedora hat maker. While focusing on felt hats, we are committed to leading the coordinated development of straw hats, sewing cloth hats, as well as knitted hats. We provide high quality hats to the world famous brands. Lots of them are highly recommended by customers from USA, Canada, Europe and Japan market.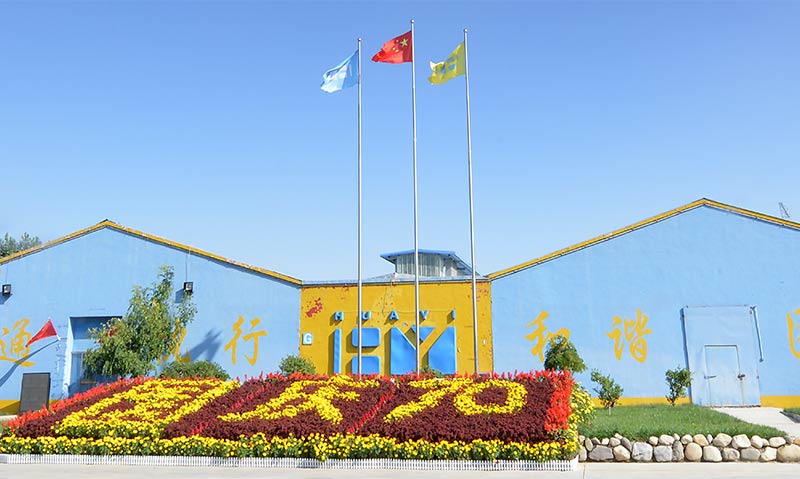 Attending exhibition shows
We attend the Canton Fair two seasons every year, Magic Show in USA, and different fairs in Japan, France, Australia, etc. with our latest styles. Get more information to our booth!

Certification
At present, Huayi hats has passed BSCI, SGS, ITS, ISO, RWS etc., to ensure that its products and services meet the market standards.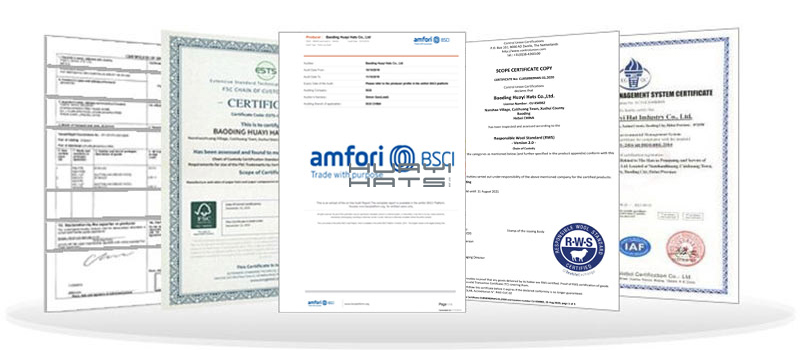 People Also Asked
Who wears a fedora hat?
Fedora-like hats in the early 20th century were often worn by both sexes. But it's the men of the 1920s through the '50s — business executives, gangsters, detectives, journalists, and the Hollywood stars who played them — who would end up creating the idea of the fedora as a distinctly masculine item.
What does a fedora symbolize?
The hat was fashionable for women, and the women's rights movement adopted it as a symbol. After Edward, Prince of Wales started wearing them in 1924, it became popular among men for its stylishness and its ability to protect the wearer's head from the wind and weather. If you want to know more the fedora, please click it.
Get Wholesale Price