Mens Brown Durable Wool Cowboy Hat With Stiff Wide Brim
This wool cowboy hat is a made of 100% Australian wool felt. It has a 4 1/4" brim that rolls-up at the sides and shapes flat in the front and back. The crown is open crown style and measures 4.7 " high in front. There is a comfortable, wickable interior sweatband. It features a stiff wide brim and a thin leather hatband. Wear it without worry on a light rainy or snowy weather. Brown color. Felt makes a superior fabric for a cowboy hat because it is light, smooth, much harder to tear than other fabrics, and is naturally water resistant.
100% Australian Wool Felt
Cowboy Hat
Wide Brim
Light Waterproof Naturally
SKU: 1012065100190014
We can design it on the base of this wool cowboy hat for you

for free

!
We can license our famous brand 【RUEDIGER】 to your hat

for free

!
You will get the same personalized attention that you deserve no matter you order 1 piece or 10000 pieces

freely

! Contact us to get a coupon!
GET A QUOTE
Your Customized Cowboy Hats - Make Your Unique Wool Cowboy Hat
Make the right choice from a multitude of cowboy hats with different colors and styling. A customized cowboy hat is completely made by your specifications. By using forgotten hat maker's trade secrets, we build some of the finest mens cowboy hat for you.
What customization is possible?
These hats can be completely customized with color, brim size, crown shapes, trim, sweat band, woven label, logo and so on.
Cowboy hat styles
The cowboy hat has many shapes, which can come in a western cowboy hat, as well as outback hat, cattleman crown hat, pinched front shape hat, etc. There are hats with medium, shorter, and taller crown heights engineered to fit well and give a pleasing look to people with different facial structures.
Colors
We are pleased to offer over 74 felt hat colors to choose from, such as grey, brown, black, tan and so on. You can also customize the hat according to the Pantone color card.
Materials
You can choose from different materials for your cowboy hats. 100% Australian wool are common for these hats. And you can get cowboy hatsin wool & cashmere (the same effect as beaver fur), or varifelt (the same effect as rabbit fur) as well.
Decorative band
Different look in different band. Our cowboy hats can be personalized with the many accessories we offer.You can choose one color for your hat and an alternate shade for its decorative band, such as a leather band, rope band or a silk ribbon, etc.
Cowboy Hat Manufacturer
About Huayi Hats Factory
Baoding Huayi Hats Co., Ltd. established in 2006, is a professional and leading enterprise engaged in design, production, sales and service of hatbody and completed hats. While focusing on felt hats, we are committed to leading the coordinated development of straw hats, sewing cloth hats, as well as knitted hats. We provide high quality hats to the world famous brands. Lots of them are highly recommended by customers from North-America, Europe and Japan market.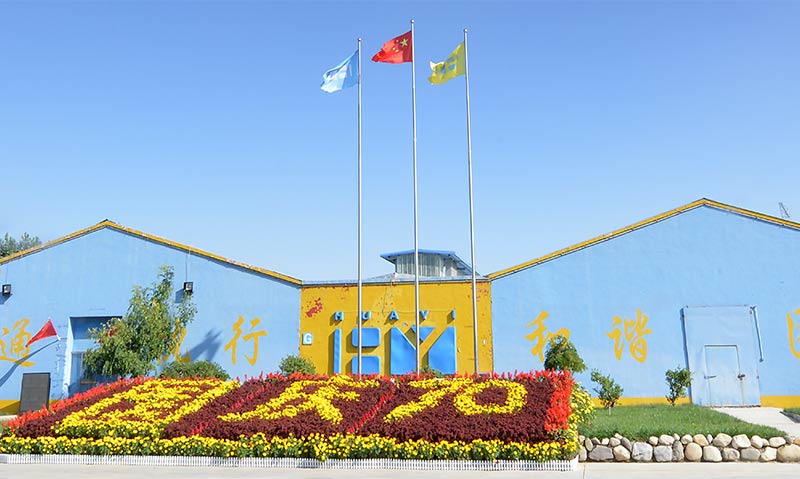 Attending exhibition shows
We attend the Canton Fair two seasons every year, Magic Show in USA, and different fairs in Japan, France, Australia, etc. with our latest styles. Get more information to our booth!

Certification
At present, Huayi hats has passed BSCI, SGS, ITS, ISO, RWS etc., to ensure that its products and services meet the market standards.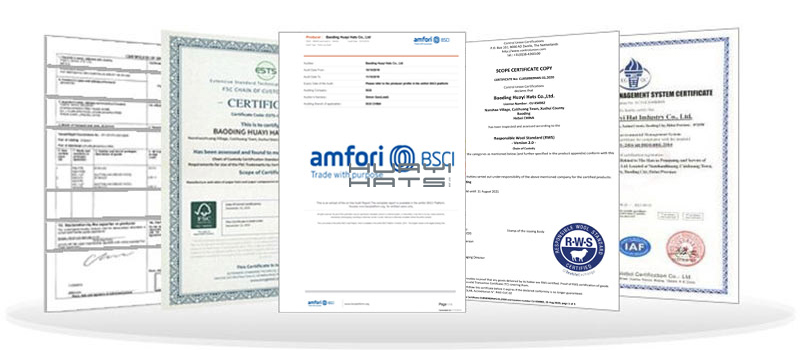 Specification of this Felt Cowboy Hat
| Attribute | Value |
| --- | --- |
| Hat type | Cowboy hat |
| Material | 100% Australian wool |
| Color | Brown |
| Size | Custom your size |
| Logo | Custom your logo |
| Pinch | Open road crown |
| Brim | Wide brim |
| Ribbon | With a hatband |
| Gender | Mens |
| Age group | Adult |
| Feature | Wide brim felt cowboy hat |
| Manufacturer | Huayi Hats |
| SKU | 1012065100190014 |
Wholesale Price
Looking to buy high quality cowboy hats in bulk to save money? We offer wholesale cowboy hats for those really looking to party. We don't need to say that purchasing this cowboy hat from our factory saves your wallet than purchasing them elsewhere, the customer reviews already have it.
If you want to know the wholesale price of this men's cowboy hat for reference. Please contact us for exact quotation.
And whether you order 1 piece or 10000 pieces, you will get the same personalized attention that you deserve!
People Also Ask
How do you shape a wool cowboy hat?
Answer: Form your wool hat to your head as comfortably as you like, or add a curve to the brim that wasn't there before. Boil water in a teapot or in a sauce pan. Hold the area of the hat you'd like to shape over the steam from the boiling water. The steam will make the hat more pliable.
Are wool felt cowboy hats waterproof?
Answer: Felt makes a superior fabric for a cowboy hat because it is light, smooth, much harder to tear than other fabrics, and is naturally water resistant.
Are wool cowboy hats good?
Answer: There's a market for wool felt hats. They're nice; there's not much investment. You put it on when it's really cold; it protects your head.
Top Reviews of this Mens Brown Felt Cowboy Hat
Jorin from United States
verified purchase
They really look great, so I decided to purchase on Huayi--at a lower price!
Edog from United States
verified purchase
This is a wool felt hat. But, for what it is, and the cost, this is a great hat!
Sam Spade from United States
verified purchase
I have had this had for awhile, wearing it constantly. Would I recommend the hat? Yes. I have gotten a lot of compliments on the hat as well as questions as to where I got it.
you may also like
---
Get Wholesale Price