Mens Wide Brim Wool Felt Brown Cowboy Hat With Studded Leather Band
This brown cowboy hat is made of 100% wool felt that is a dense and sturdy material. It features a studded leather band for a more stylsih look. Cowboy hats are a must for any western costume! Look like a native texas rancher or rodeo rider in this brown hat. It can come in multiple sizes that fit all adults and toddler. For people who loves cowboy stories and games, this is a cute and easy way for them to roleplay. It will stay on, even during the most intense cowboy adventures.
100% Australian Wool Felt
Cowboy Hat
Wide Brim
Fit For Adults & Children
Studded Leather Band
SKU: 1012001500100013
We can design it on the base of this brown cowboy hat for you

for free

!
We can license our famous brand 【RUEDIGER】 to your hat

for free

!
You will get the same personalized attention that you deserve no matter you order 1 piece or 10000 pieces

freely

! Contact us to get a coupon!
GET A QUOTE
Your Customized Cowboy Hats - Make Your Unique Brown Cowboy Hat
Make the right choice from a multitude of cowboy hats with different colors and styling. A customized cowboy hat is completely made by your specifications. By using forgotten hat maker's trade secrets, we build some of the finest mens cowboy hat for you.
What customization is possible?
These hats can be completely customized with color, brim size, crown shapes, trim, sweat band, woven label, logo and so on.
Cowboy hat styles
The cowboy hat has many shapes, which can come in a western cowboy hat, as well as outback hat, cattleman crown hat, pinched front shape hat, etc. There are hats with medium, shorter, and taller crown heights engineered to fit well and give a pleasing look to people with different facial structures.
Colors
We are pleased to offer over 74 felt hat colors to choose from, such as grey, blue, light brown, black and so on. You can also customize the hat according to the Pantone color card.
Materials
You can choose from different materials for your cowboy hats. 100% Australian wool are common for these hats. And you can get cowboy hatsin wool & cashmere (the same effect as beaver fur), or varifelt (the same effect as rabbit fur) as well.
Decorative band
Different look in different band. Our cowboy hats can be personalized with the many accessories we offer.You can choose one color for your hat and an alternate shade for its decorative band, such as a leather band, rope band or a silk ribbon, etc.
Cowboy Hat Manufacturer
About Huayi Hats Factory
Baoding Huayi Hats Co., Ltd. established in 2006, is a professional and leading enterprise engaged in design, production, sales and service of hatbody and completed hats. While focusing on felt hats, we are committed to leading the coordinated development of straw hats, sewing cloth hats, as well as knitted hats. We provide high quality hats to the world famous brands. Lots of them are highly recommended by customers from North-America, Europe and Japan market.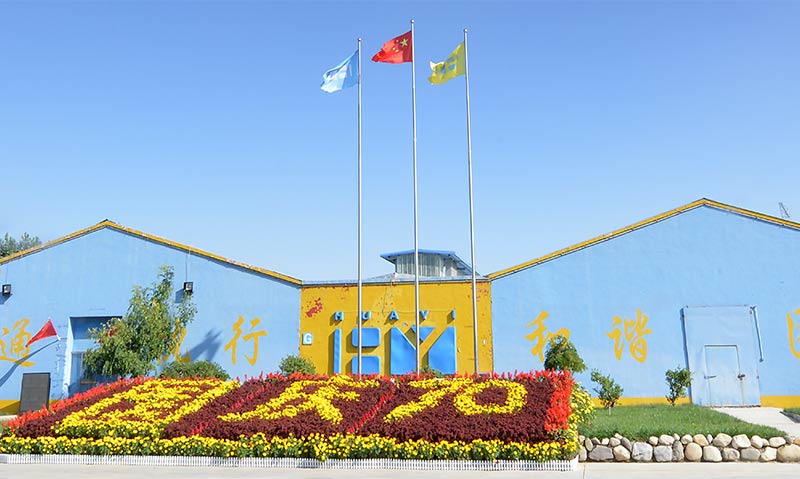 Attending exhibition shows
We attend the Canton Fair two seasons every year, Magic Show in USA, and different fairs in Japan, France, Australia, etc. with our latest styles. Get more information to our booth!

Certification
At present, Huayi hats has passed BSCI, SGS, ITS, ISO, RWS etc., to ensure that its products and services meet the market standards.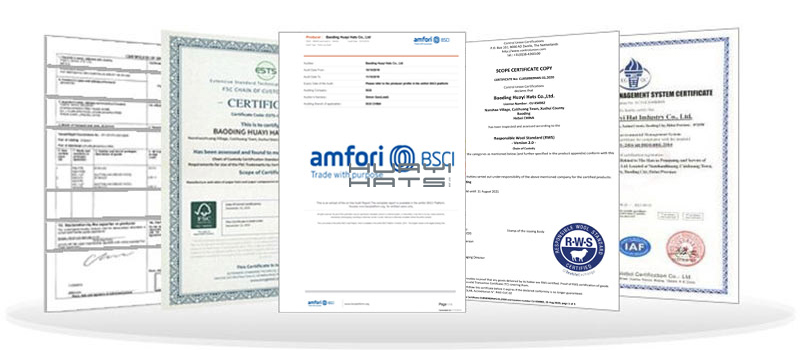 Specification of this Brown Cowboy Hat
| Attribute | Value |
| --- | --- |
| Hat type | Cowboy hat |
| Material | 100% Australian wool |
| Color | Brown |
| Size | Custom your size |
| Logo | Custom your logo |
| Pinch | Teardrop shaped |
| Brim | Wide brim |
| Ribbon | With a leather studded band |
| Gender | Mens |
| Age group | Adult & children |
| Feature | Mens brown cowboy hat |
| Manufacturer | Huayi Hats |
| SKU | 1012001500100013 |
Wholesale Price
Looking to buy high quality cowboy hats in bulk to save money? We offer wholesale cowboy hats for those really looking to party. We don't need to say that purchasing this cowboy hat from our factory saves your wallet than purchasing them elsewhere, the customer reviews already have it.
If you want to know the wholesale price of this men's cowboy hat for reference. Please contact us for exact quotation.
And whether you order 1 piece or 10000 pieces, you will get the same personalized attention that you deserve!
People Also Ask
What is a cowboy hat actually called?
Answer: Stetson" became synonymous with the word "hat" in every corner and culture west of the Mississippi River." The shape of the hat's crown and brim were often modified by the wearer for fashion and to protect against weather by being softened in hot steam, shaped, and allowed to dry and cool.
What is a gaucho hat?
Answer: Bolero, Gaucho Hats were originally worn by cowboys in South America. These hats are made of felt with wide flat brim, shallow flat crown with chin cord.
What is the meaning of a black cowboy hat?
Answer: Black hat is now often used in reference to a bad person, especially a villain or criminal in a movie, novel, play or in real life. ... The cowboy hat is a high-crowned, wide-brimmed hat best known as the defining piece of attire for the North American cowboy.
Top Reviews of this Mens Brown Cowboy Hat
Benjamin Arrighi from United States
verified purchase
I am old and have always wanted to have a cowboy hat. For one reason or another, I have never purchased one. I worked in a production chemical facility for most of my working life and had to wear a hard hat. I have been retired for about 3 years and kind of missed having a hat on my head. I custom a cowboy hat at Huayi store and purchased it.
Philip R. from United States
verified purchase
Nice hat for the price. The brim is easily adjusted to how you want your hat to look. This is definitely cool in the fashion sense
Rodriguez from United States
verified purchase
I'm not a hat aficionado, but I love this hat. The felt seems nice, it seems sturdy.
you may also like
---
Get Wholesale Price