Improve your business! Your source of custom hats here at wholesale price!
CUSTOM NEWSBOY CAPS
Looking for a custom newsboy cap? We provide the newsboy caps of the best quality at the wholesale price. We're sure you'll commend our quality & price.
Browse through a wide selection of newsboy cap on Huayihats.com that are unique and adaptable to many different occasions and seasons. These newsboy caps provide flexibility as they can be used in both outdoor and indoor settings.
FIND YOUR OWN HAT
Whether you are looking for a mens newsboy cap, womens newsboy cap, or just a walk-about hat,
we help you decide exactly what's right for you.
What Customization Is Possible?
Our newsboy cap's casual look can be customized according to your own style. All our mens newsboy cap are manufactured according to the highest standards in this line. We never stopped committing to providing you the great product, time-critical delivery and best service. The customization of newsboy cap is available in hat styles, color, material, logo, pattern, size and so on.
Hat styles
The hat styles can come in a mens newsboy cap, as well as womens newsboy cap, 8 panel newsboy cap, etc.
Colors
Available in a medley of classic colors - including black, brown, grey, navy, and so on. You can also customize the hat according to the Pantone color card.
Materials
We carefully choose materials for our newsboy caps and hats. Headwear is to offer above average comfort. That is why we willingly use materials such as 100% wool, wool blend, cotton, linen, Harris Tweed or genuine leather.
PEOPLE ALSO ASKED
What is a newsboy cap called?
Newsboy caps are often referred to as flat caps or ivy caps, but that's a mistake. Unlike a flat cap, which has no bagginess, a newsboy cap is sewn together from the top of the hat creating eight panels — as such, a newsboy cap is often called an eight-panel or gatsby cap.
Do flat caps suit everyone?
If you are a lover of classic style, then a flat cap will suit your wardrobe no matter your age or occupation. Sized properly, they flatter nearly all face shapes and they can be styled to suit casual, informal and formal attire.
NEWSBOY CAPS MANUFACTURER
About Huayi Hats Factory
Baoding Huayi Hats Co., Ltd. established in 2006, is a professional and leading enterprise engaged in design, production, sales and service of hatbody and completed hats. While focusing on felt hats, we are committed to leading the coordinated development of straw hats, sewing cloth hats, as well as knitted hats. We provide high quality hats to the world famous brands. Lots of them are highly recommended by customers from North-America, Europe and Japan market.
Attending exhibition shows
We attend the Canton Fair two seasons every year, Magic Show in USA, and different fairs in Japan, France, Australia, etc. with our latest styles. Get more information to our booth!

Certification
At present, Huayi hats has passed BSCI, SGS, ITS, ISO, RWS etc., to ensure that its products and services meet the market standards.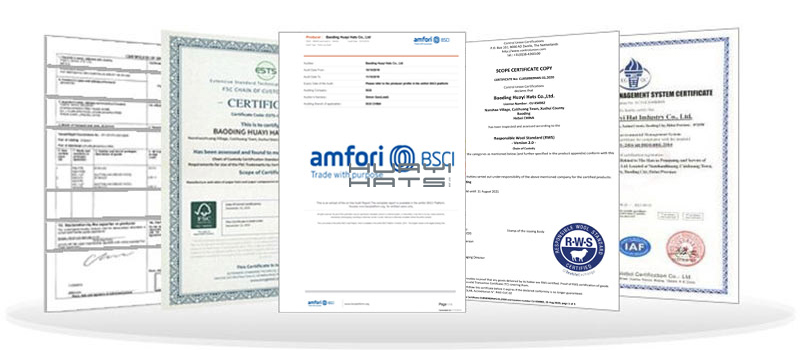 BEST SELLERS
Our most popular styles, from new arrivals to tried-and-true pieces
that have stood the test of time !
TOP REVIEWS
Top reviews from our customers!
Maddox from United States
verified purchase
A very nice newsboy hat in a style difficult to find in stores. This item is well worth the money and looks great.
Michael K. from UK
verified purchase
The construction of this harris tweed cap is very good. Very comfortable. High Quality. 100% Wool.
Carl from United States
verified purchase
This white hat sample just arrived in the mail. When I saw it was in an box, I thought oh oh, how good can this be? But it is indeed, very good. A very nice hat in a style difficult to find in stores.