Improve your business! Your source of custom hats here at wholesale price!
CUSTOM COWBOY HAT
Looking for a custom made cowboy hat? We make cowboy hats of the best quality at the wholesale price. We're sure you'll commend our quality & price.
One of the cowboy's most important pieces of equipment was his hat. There's something about wearing a truly custom cowboy hat that makes someone excited. For nearly 30 years, Huayi Hats has been hand-making felt cowboy hats and straw cowbooy hats here. We offer a wide range of men and women's cowboy hats made with high-quality fabric. When you want only the best, trust our skilled craftsmen. And we offer the most complete line of accessories and hat care products available that can come in hat brushes, a custom cowboy hat band or a hat box. You'll find what you need right here.
We provide these high quality wholesale cowboy hats to the world famous brands. Lots of them are highly recommended by customers from United States, like california, texas, nashville, colorado and more.
FIND YOUR COWBOY HAT STYLE
Whether you are looking for a outback hat, cowboy hat, or a straw cowboy hat,
we help you decide exactly what's right for you.
Make Your Own Custom Cowboy Hats
Make the right choice from a multitude of cowboy hats with different colors and styling. Our hats are all handmade and custom built to your specifications. By using forgotten hat maker's trade secrets, we build some of the finest cowboy hats for you.
What customization is possible? - Custom Felt Cowboy Hats & Custom Straw Cowboy Hats
These hats can be completely customized with color, brim size, crown shapes, trim, sweat band, woven label, logo, patch and so on.
Cowboy hat styles
The cowboy hat has many shapes, which can come in a western cowboy hat, as well as outback hat, cattleman crown hat, pinched front shape hat, etc. There are hats with medium, shorter, and taller crown heights engineered to fit well and give a pleasing look to people with different facial structures.
Colors
We are pleased to offer over 74 felt hat colors to choose from, such as gold, white, red, green, grey, black and so on. You can also customize the hat according to the Pantone color card.
Materials
You can choose from different materials for your cowboy hats. 100% Australian wool are common for these hats. And you can get hats in wool & cashmere, or natural straw fiber as well.
Decorative band
Different look in different band. Our cowboy hats can be personalized with the many accessories we offer.You can choose one color for your hat and an alternate shade for its decorative band, such as a leather band, rope band or a silk ribbon, etc.
PEOPLE ALSO ASKED
How much does a custom cowboy hat cost?
They are typically your cheaper hats. Again the price depends on the quantity of the felt hats, the color being used in the hat, the hat accessories and so on.
How long does it take to make a custom cowboy hat?
There are about seventy-two individual steps to making a cowboy hat. Once we start each hat, we can make 3000 pieces each day!
CUSTOM COWBOY HAT MAKER
About Huayi Hats Factory
Baoding Huayi Hats Co., Ltd. established in 2006, is a professional and leading enterprise engaged in design, production, sales and service of hatbody and completed hats. While focusing on felt hats, we are committed to leading the coordinated development of straw hats, sewing cloth hats, as well as knitted hats. We provide high quality hats to the world famous brands. Lots of them are highly recommended by customers from North-America, Europe and Japan market.
Attending exhibition shows
We attend the Canton Fair two seasons every year, Magic Show in USA, and different fairs in Japan, France, Australia, etc. with our latest styles. Get more information to our booth!

Certification
At present, Huayi hats has passed BSCI, SGS, ITS, ISO, RWS etc., to ensure that its products and services meet the market standards.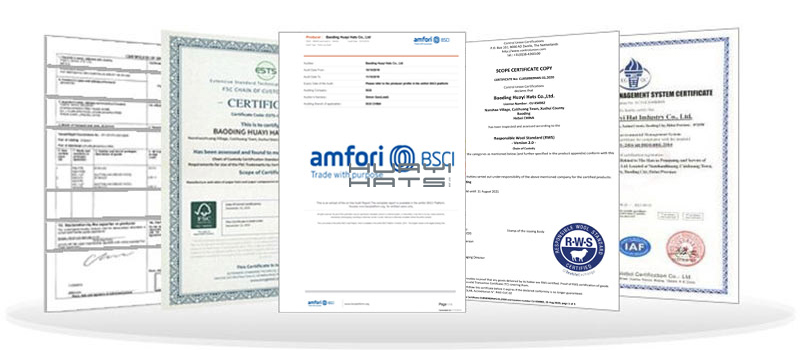 BEST SELLERS
Our most popular styles, from new arrivals to tried-and-true pieces
that have stood the test of time !
TOP REVIEWS
Top reviews from our customers!
Ann from Australia
verified purchase
This wool felt cowgirl hat came very securely packaged and secure. The construction is well done and exceeded my expectations for the price.
Neris from Australia
verified purchase
It's quality material and a gorgeous color. It's firm and still and doesn't feel or look cheap. Very surprised at quality for the price.
Vanessa from United States
verified purchase
Good quality, well made. Great packaging.