Improve your business! Your source of custom hats here at wholesale price!
CUSTOM BERET
Looking for a custom beret? We provide the beret caps of the best quality at the wholesale price. We're sure you'll commend our quality & price.
Browse through a wide selection of beret hat on Huayihats.com that are unique and adaptable to many different occasions and seasons. These beret hats provide flexibility as they can be used in both outdoor and indoor settings.
FIND YOUR OWN HAT
Whether you are looking for a womens beret cap, french beret cap, or just a walk-about hat,
we help you decide exactly what's right for you.
What Customization Is Possible?
Just tell us your idea about custom berets, we can make a free design for you. All our french beret hats are manufactured according to the highest standards in this line. Same quality with lowest price arrangement. The customization of beret is available in hat styles, color, material, logo, pattern, size and so on.
Patterns
The beret hat patterns can come in a plain color, as well as plaid pattern or striped pattern, etc.
Colors
We carry dozens of great colors including red, black, blue, pink, purple, green and so on. You can also customize the hat according to the Pantone color card.
Materials
A large selection available in a wide range of materials including 100% wool, cashmere & wool, acrylic, cotton, genuine leather and so on.
Decorations
These charming beret hats are now available with exclusive custom flower decorations, a lovely velvet blossom accented with organza petals, sequins, and beads.
PEOPLE ALSO ASKED
Is it offensive to wear a beret?
No, berets where being worn by civilians literally centuries before it was adopted by it's first military units in 1889. ... It is disrespectful to wear these berets because they are considered distinctive uniform items that you must EARN to wear.
What does a black beret mean?
A black beret is the official headgear of the Air Force TACP. They're about as operator as you get in the Air Force without becoming pararescue or combat control.
BERET HATS MANUFACTURER
About Huayi Hats Factory
Baoding Huayi Hats Co., Ltd. established in 2006, is a professional and leading enterprise engaged in design, production, sales and service of hatbody and completed hats. While focusing on felt hats, we are committed to leading the coordinated development of straw hats, sewing cloth hats, as well as knitted hats. We provide high quality hats to the world famous brands. Lots of them are highly recommended by customers from North-America, Europe and Japan market.
Attending exhibition shows
We attend the Canton Fair two seasons every year, Magic Show in USA, and different fairs in Japan, France, Australia, etc. with our latest styles. Get more information to our booth!

Certification
At present, Huayi hats has passed BSCI, SGS, ITS, ISO, RWS etc., to ensure that its products and services meet the market standards.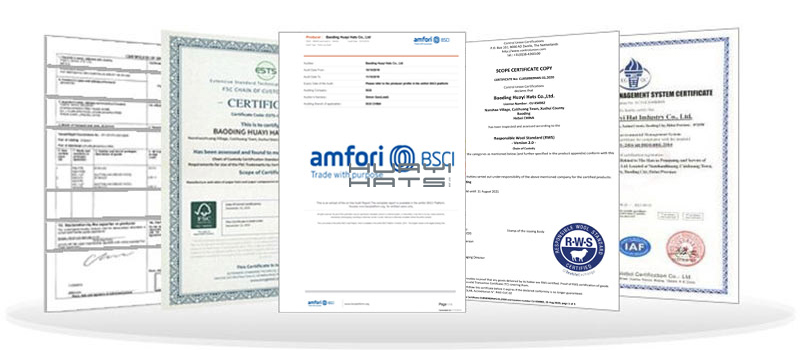 BEST SELLERS
Our most popular styles, from new arrivals to tried-and-true pieces
that have stood the test of time !
TOP REVIEWS
Top reviews from our customers!
Angie from UK
verified purchase
This is the second one I custom from this seller. It too was a gift for another one of my granddaughters. She loved hers too. The flowers are securely attached. She get a lot of compliments.
YamiNogue from United States
verified purchase
I've been looking for a really nice fitted beret hat that sits really nicely on my head throughout the day. And I finally find the right one sold here!
Carole from Uk
verified purchase
I ordered about fifty purple berets at the same time. And I lucked out, because this beret was the hands-down winner and I don't need to keep looking. It is the perfect size and fit, and perfect material -- 100% wool is just right.