Improve your business! Your source of custom hats here at wholesale price!
CUSTOM BEANIES
Looking for a custom beanie? We provide the beanies of the best quality at the wholesale price. We're sure you'll commend our quality & price.
A beanie is a hat that is either knitted or sewn together using fleece, acrylic or wool material. Order a custom beanies with your unique design or logo to promote company branding. And a personalized beanie makes a perfect personalized gift for your family! If you don't fancy yourself a designer, we can offer you a free design. Our designs are professionally embroidered with state-of-the-art equipment guaranteed with the highest quality and best results. Besides embroidery, a patch or label logo is also available.
FIND YOUR OWN HAT
Whether you are looking for a slouchy beanie cap, cuffed beanie, or just a winter hat,
we help you decide exactly what's right for you.
What Customization Is Possible?
Want a high quality, good-looking comfy and personalized beanie hat? This one's for you. It will make you different from others or promote your company business. Grab your custom beanie today. Huayi Hats is the winter hat manufacturer for your team, school, company, or any occasion befitting a custom-made hat.
What customization is possible?
The customization of beanie hat is available in hat styles, color, material, logo, pattern, size and more.
Logo
Simply tell us your personalized text or logo! Our designs are professionally embroidered with state-of-the-art equipment guaranteed with the highest quality and best results. Besides embroidery, a patch or label logo is also available.
Styles
You can make your own pom pom beanie or straight solid-knit beanie, cuffed beanie and any styles.
Colors
Our beanie hats for men and women are available in many colors, like black, grey, green, white, pink, red, blue and more. So we are sure you'll find the perfect one. You can also customize the hat according to the Pantone color card.
Materials
A large selection available in a wide range of materials including 100% wool, cashmere & wool, acrylic, cotton and so on.
CUSTOM BEANIES WHOLESALE
Looking to order high quality beanies in bulk to save money? The design and wholesale distribution of the Huayi Hats has been our focus for over so many years.
We carry a huge inventory of toboggan and knit winter beanies for both men and women. And our wholesale blank style's collection of beanies range from a variety of styles and colors. Since 2006, we strive to offer quality wholesale beanie caps at very competitive prices. Order them in bulk today by contact us.
If you want to get the wholesale price and the details for your favorite hats or just request our free hat catalog. Please contact us.
PEOPLE ALSO ASKED
Custom Beanies No Minimum?
You can custom a sample before bulk order.
Why do they call it a beanie?
The cloth-covered button on the crown is about the size of a bean seed and may be the origin of the term "beanie".
CUSTOM BEANIE MANUFACTURER
About Huayi Hats Factory
Baoding Huayi Hats Co., Ltd. established in 2006, is a professional and leading enterprise engaged in design, production, sales and service of hatbody and completed hats. While focusing on felt hats, we are committed to leading the coordinated development of straw hats, sewing cloth hats, as well as knitted hats. We provide high quality hats to the world famous brands. Lots of them are highly recommended by customers from North-America, Europe and Japan market.
Attending exhibition shows
We attend the Canton Fair two seasons every year, Magic Show in USA, and different fairs in Japan, France, Australia, etc. with our latest styles. Get more information to our booth!

Certification
At present, Huayi hats has passed BSCI, SGS, ITS, ISO, RWS etc., to ensure that its products and services meet the market standards.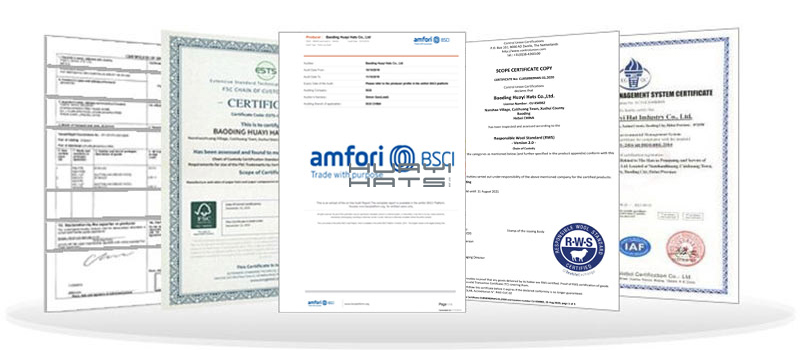 BEST SELLERS
Our most popular styles, from new arrivals to tried-and-true pieces
that have stood the test of time !
TOP REVIEWS
Top reviews from our customers!
Michelle from United Stated
verified purchase
As soon as I got it on my head I immediately place an order for more winter hat since it was warm without the bulk and comfortable enough to do it's job without any issues, like using it while wearing glasses. I must not been alone with this decision since they were sold out and I have to wait till the new order was available, not a problem since it will be worth the wait and at a great price too.
Michael from United Stated
verified purchase
These green beanie hats came out great! Jenny was very helpful in answering all my questions and sending me photos to get exactly what we were looking for!
L. Brown from United Stated
verified purchase
This beanie has a great shape, snug but with lots of room on the top.Great quality hats will definitely buy again!